The Pickwick Papers DIC 4
Omschrijving:
The Pickwick Papers began as a literary spoof centred around sketches of stock sporting fops by caricaturist Robert Seymour. Following the success of Sketches by Boz , Dickens was recruited to compose the words which would accompany the illustrations. Dickens quickly made the project his own and created some of his most popular characters: Samuel Pickwick, and his companions Winkle, Augustus Snodgrass, and Tracy Tupman. At the height of its popularity The Pickwick Papers sold 40,000 copies a month and catapulted the 24 year old Dickens to fame.
Boek is beschikbaar in de Mediatheek.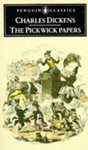 Auteur:
Charles Dickens
Keywords:
Literaire fictie algemeen
Relevant: