Who's afraid of Virginia Woolf? ALB 2
Omschrijving:
"Twelve times a week," answered Uta Hagen when asked how often she´d like to play Martha in Who´s Afraid of Virginia Woolf? In the same way, audiences and critics alike could not get enough of Edward Albee´s masterful play. A dark comedy, it portrays husband and wife George and Martha in a searing night of dangerous fun and games.
Boek is beschikbaar in de Mediatheek.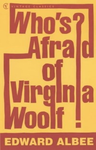 Auteur:
Edward Albee
Keywords:
Toneeltekst
Relevant: