Uncommon danger AMB 1
Omschrijving:
Kenton's career as a journalist depends on his facility with languages, his knowledge of European politics and his quick judgement. Where his judgement sometimes fails him, however, is in his personal life. When he travels to Nuremberg to investigate a story about a top-level meeting of Nazi officials, he inadvertently finds himself on a train bound for Austria after a bad night of gambling. Stranded with no money, Kenton jumps at the chance to earn a fee helping a refugee smuggle securities across the border. Yet he soon discovers that the documents he holds have far more than cash value - and that they could cost him his life!
Boek is beschikbaar in de Mediatheek.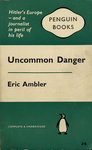 Auteur:
Eric Ambler
Keywords:
Spannende boeken algemeen
Relevant: