The Comedians GRE 10
Omschrijving:
Three men meet on a ship bound for Haiti, a world in the grip of the corrupt aPapa Doca and the Tontons Macoute, his sinister secret police. Brown the hotelier, Smith the innocent American, and Jones the confidence manathese are the acomediansa of Greeneas title. Hiding behind their actorsa masks, they hesitate on the edge of life. They are men afraid of love, afraid of pain, afraid of fear itself...
Boek is beschikbaar in de Mediatheek.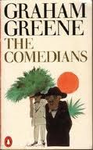 Auteur:
Graham Greene
Keywords:
Literaire fictie algemeen
Relevant: