Nineteen eighty-four ORW4
Omschrijving:
Nineteen Eighty-Four (also titled 1984),[1] by George Orwell (the pen name of Eric Arthur Blair), is a 1949 English novel about life under a futuristic totalitarian regime in the year 1984. It tells the story of Winston Smith, a functionary at the Ministry of Truth, whose work consists of editing historical accounts to fit the government's policies. The book has major significance for its vision of an all-knowing government which uses pervasive and constant surveillance of the populace, insidious and blatant propaganda, and brutal control over its citizens. The book had a substantial impact both in literature and on the perception of public surveillance, inspiring such terms as 'Big Brother' and 'Orwellian'.
Boek is 3 keer beschikbaar in de Mediatheek.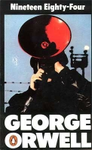 Auteur:
George Orwell
Keywords:
Literaire fictie algemeen
,
Science fiction
Relevant: