The Naive and Sentimental Lover CARR1
Omschrijving:
John le Carre

Aldo Cassidy is the naive and sentimental lover. A successful, judicious man, he is wrenched away from the ordered certainties of his life by a sudden encounter with Shamus, a wild, carousing artist and Helen, his nakedly alluring wife. Cassidy, plunged into a whirlpool of recklessness and spontaneity, becomes a man bewildered and agonised as he is torn between two poles of a nature more complex than he had ever imagined.
Boek is beschikbaar in de Mediatheek.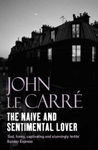 Auteur:
John le Carre
Keywords:
Literaire fictie algemeen
Relevant: