Pleasant vices AST 1
Omschrijving:
A social comedy by the author of "Just for the Summer". The illegal activities of unemployed teenagers on a London suburban council estate are giving cause for concern. There is also illegal activity among the residents of the desirable street nearby - but these crimes are more socially-acceptable.
Boek is beschikbaar in de Mediatheek.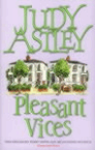 Auteur:
Judy Astley
Keywords:
Literaire fictie algemeen
Relevant: