Light a penny candle BIN 1
Omschrijving:
niveau A

Evacuated from Blitz-battered London, Elizabeth is sent to stay with the O�Connor family. At first she is overcome by the noise and confusion of Ireland, by the extravagant emotionalism of a people quick to anger and swift to forgive. But soon, through the determined friendship of ten-year-old Aisling and the love of Eileen, Elizabeth begins to enjoy life as never before. When she goes back to England after the war this family remains part of her life.

Through twenty years of friendship Aisling O�Connor and Elizabeth White�s paths will cross and re-cross. As they face their loves, their marriages and their disappointments, they come to realise that not all problems will be solved, nor all wishes granted by lighting a penny candle.


Boek is beschikbaar in de Mediatheek.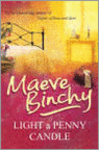 Auteur:
Maeve Binchy
Keywords:
Literaire fictie algemeen
Relevant: