The Ice Age DRA 2
Omschrijving:
In this, her largest and finest novel, her first since the greatly acclaimed The Realms of Gold, "one of the best English novelists writing today" (The New York Times Book Review) gives us a constellation of English lives, each at a crucial point of change.
At the center: a woman at midlife, an energetic, interesting woman, a pretty ex-actress anxiously caring for her family while experimenting inside a new, generous, romantic relationship... and her lover, a handsome man, a man of tact and feeling, dissatisfied with his past, leaving his respectable BBC job and entering the excitements and corruptions of high (chancy) finance. And around them - others who represent facets of their future: an irresistible real estate tycoon enmeshed in a tricky, ambitious enterprise that has catastrophically backfired; an adorable young rogue of a girl poised between the joys of being kept by an adventurer and a longing for respectable marriage; a troubled teenager testing her mother's love while involved in a terrifying imbroglio behind the Iron Curtain...

The Ice Age has all the absorbing richness and assured novelistic quality we have come to expect from Margaret Drabble's work. These people are alive, convincing, intelligent, all of them enlisting our sympathies, holding us in suspense as we watch their stratagems for keeping themselves going, for enlarging their lives and deepening life's meaning - their clever or foolish ventures into business; their complicated bids for love, security, satisfying self-expression, romance; their spirited assumption of responsibility for their children, adrift in the craziness of the sixties and seventies.

Level A
Boek is beschikbaar in de Mediatheek.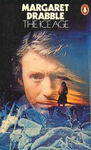 Auteur:
Margaret Drabble
Keywords:
Literaire fictie algemeen
Relevant: