The year in San Fernando ANT 1
Omschrijving:
Twelve-year-old Francis, the son of a very poor widow living in a Trinidadian village, is given the chance to go to San Fernando to work as a servant companion. It seems a great opportunity, but Francis has never seen a town, or been away from his family, and he is very afraid.
Boek is beschikbaar in de Mediatheek.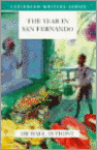 Auteur:
Michael Anthony
Keywords:
Literaire fictie algemeen
Relevant: