Two Weeks With the Queen GLE 1
Omschrijving:
Niveau B

When Luke becomes seriously ill with leukemia, it seems to Colin that it is just another way of his little brother trying to get attention. But when Colin is sent to England he hatches a plot that will really make his mum and dad sit up and take notice. If he can just get to the Queen to ask if he can borrow the best doctor in the country then all will be well. "Two Weeks With the Queen" brilliantly combines comedy and tragedy as Colin embarks on his hilarious mission. The reluctance of adults to discuss Luke's illness is incredibly well observed, and Colin's dream of resolving his family's problems and becoming the hero of the piece is dealt with so tenderly amid the laugh-out-loud comedy that it is nigh on impossible not to shed a tear.
Boek is 2 keer beschikbaar in de Mediatheek.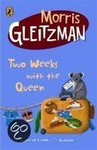 Auteur:
Morris Gleitzman
Keywords:
Literaire fictie algemeen
Relevant: