Beach music COY 1
Omschrijving:
Pat Conroy, America's preeminent storyteller, delivers a sweeping new novel of lyric intensity and searing truth -- the story of Jack McCall, an American expatriate in Rome, scarred by tragedy and betrayal. His desperate desire to find peace after his wife's suicide draws him into a painful, intimate search for the one haunting secret in his family's past that can heal his anguished heart.
Spanning three generations and two continents, from the contemporary ruins of the American South to the ancient ruins of Rome, from the unutterable horrors of the Holocaust to the lingering trauma of Vietnam, Beach Music sings with life's pain and glory. It is another masterpiece in Pat Conroy's legendary list of beloved novels.
Boek is beschikbaar in de Mediatheek.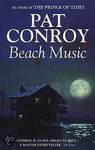 Auteur:
Pat Conroy
Keywords:
Literaire fictie algemeen
,
Klassieke oudheid
Relevant: