The National Short Story Prize BBC 1
Omschrijving:
The National Short Story Prize is a major new annual award designed to honour Britain's finest short story writers and to re-establish the importance of the short story as a central literary form. It is part of a wider campaign to build the profile, prestige and presence of the short story in our culture after many years of neglect. The panel of judges includes writer William Boyd, broadcaster and writer Francine Stock, Radio 4 executive producer Di Spiers, author Lavinia Greenlaw, and Prospect deputy editor Alexander Linklater.

Boek is beschikbaar in de Mediatheek.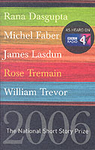 Auteur:
Rana Dasgupta, e.a.
Keywords:
Verhalenbundels
Relevant: