A kind of loving BARS 1
Omschrijving:
A Kind of Loving is a novel by the English novelist Stan Barstow. First published in 1960, it has long been used as a set text in British schools. It has also been translated at various times into a film of the same name, a television series, a radio play and a stage play. A Kind of Loving was the first of a trilogy, published over the course of sixteen years, that followed hero Vic Brown through marriage, divorce and a move from the mining town of Cressley to London. The other two parts are The Watchers on the Shore and The Right True End.
Boek is beschikbaar in de Mediatheek.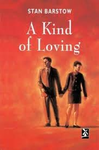 Auteur:
Stan Barstow
Keywords:
Literaire fictie algemeen
Relevant: