The dark is rising COO 1
Omschrijving:
Before Harry Potter , there was Susan Cooper's The Dark is Rising . The original classic series comes to life with this action-packed feature-length movie. It's midwinter and Will Stanton, the seventh son of a seventh son, discovers his destiny on the eve of his birthday. Will must learn to harness the powers of the Old Ones and embark on an incredible battle against the terrifying Dark, an evil entity that threatens the world's very existence.
Boek is beschikbaar in de Mediatheek.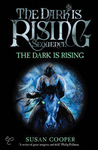 Auteur:
Susan Cooper
Keywords:
Fantasy
Relevant: