Sammy Keyes And The Hotel Thief DRAA 1
Omschrijving:
Sammy Keyes is perusing the neighborhood through binoculars when she spots something fishy at the Heavenly Hotel. She's sure she's just seen a robbery, now she just has to prove it. Now in Knopf Paperback, is the first book in the exciting new series of middle-grade mysteries starring the smart and spunky seventh-grade ace detective. "This girl sleuth is no well-mannered Nancy Drew. She's hot-tempered, nosy and not always obedient. In short, she's someone I want to read about again. A winning debut!" (Margaret Maron, author of The Bootlegger's Daughter and One Coffee With).

Level C
Boek is beschikbaar in de Mediatheek.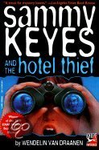 Auteur:
Wendelin van Draanen
Keywords:
jeugdliteratuur
Relevant: