The Woman in White (simplified version) COLL 1:1
Omschrijving:
Poor art master, Walter Hartright, is employed to teach two young women in Cumberland, and falls in love with one of them, Laura. His feelings are returned, but she is already engaged to another. They are parted and she marries, but she and Marian, her resourceful half-sister, are then caught up in her new husband's plot to steal her fortune and identity. Laura is stripped of her name and money, and almost of her sanity, but is rescued by Marian and protected by the faithful Hartright. He and Marian battle to expose the fraud and reclaim Laura's identity, fortune and position in society. Throughout the story they encounter a mysterious woman in white, whose own sad story seems entangled with those of Laura and her husband, and who plays a crucial role in the novel's main events.

shortened en simplified version of the oiginal of 1860
Boek is beschikbaar in de Mediatheek.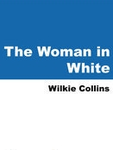 Auteur:
Wilkie Collins
Keywords:
Literaire fictie algemeen
Relevant: