Adam Bede EL 2
Omschrijving:
Abridged and simplified version

Adam Bede (1859), George Eliot's first full-length novel, marked the emergence of an artist to rank with Scott and Dickens. Set in the English Midlands of farmers and village craftsmen at the turn of the eighteenth century, the book relates a story of seduction issuing in 'the inward suffering which is the worst form of Nemesis. But it is also a rich and pioneering record - drawing on intimate knowledge and affectionate memory - of a rural world that we have lost. The movement of the narration between social realism and reflection on its own processes, the exploration of motives, and the constant authorial presence all bespeak an art that strives to connect the fictional with the actual.
Boek is beschikbaar in de Mediatheek.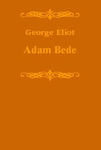 Auteur:
George Eliot
Keywords:
Literaire fictie algemeen
Relevant: