The Snows of Kilimanjaro and other stories HEM 1
Omschrijving:
Level C

- The snows of Kilimanjaro
- Soldier's home
- My old man

"It came with a rush; not as a rush of water nor of wind; but of a sudden evil-smelling emptiness. . ."
A flamboyant, hard-drinking, ruthless, and womanizing world adventurer comes face-to-face with the one antagonist he cannot conquer: his own ignoble and imminent death. . . .
Written in 1938, "The Snows of Kilimanjaro" is a classic distillation of the themes Ernest Hemingway obsessively explored throughout his writing career. When Harry, the central character, goes on safari to "work the fat off his mind," his ambitions are cut short when a terrible accident leaves him facing his ultimate death and weighing the meaning of his life. Hemingway's brilliant prose is given a penetrating and moving reading by Charlton Heston in an audio that only deepens in meaning with each listening.
Boek is beschikbaar in de Mediatheek.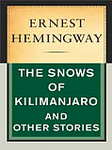 Auteur:
Ernest Hemingway
Keywords:
Verhalenbundels
,
Literaire fictie algemeen
Relevant: