Modelbuilding SISO 710.9
Omschrijving:
About this book:
Models make it possible to visualize an idea in three dimensions. Designing with models and presenting ideas is an important step in the development of a consciousness of design.

Themes:
Levels of abstraction and degrees of detail
Model typologies
Typical working tools and techniques
Materiality of models
Presentation possibilities

Written for:
students, lecturers, tutors, professors, Young Professionals




Boek is beschikbaar in de Mediatheek.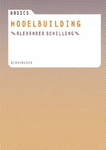 Auteur:
Alexander Schilling
Keywords:
informatief kunst
,
informatief wetenschap
Relevant: