Vernon God Little PIE 1
Omschrijving:
Fifteen year old Vernon Little is living in Martirio, Texas. His best friend, Jesus, has just murdered sixteen of their classmates before killing himself. The town wants vengeance and turns its sights on Vernon. Fearing the police, which obviously isn't too interested in the truth, Vernon sets off for Mexico.
Boek is 2 keer beschikbaar in de Mediatheek.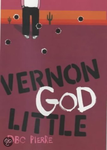 Auteur:
D.B.C. Pierre
Keywords:
Literaire fictie algemeen
,
jeugdliteratuur
Relevant: