The Queen of Death MILNE 5
Omschrijving:
Level D
Archeologist John Farrow knows where to find the secret tomb of Queen Axtarte. When he goes to Egypt, he mysteriously disappears. Are it smugglers or is it Queen Axtarte's curse: "Anyone who enters my tomb, anyone who touches my body, that person will die a terrible death".
Boek is beschikbaar in de Mediatheek.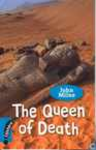 Auteur:
John Milne
Keywords:
jeugdliteratuur
Relevant: