The Phantom Airman JON 1
Omschrijving:
Two girls and two boys are standing in the middle of old Lychford Green airfield. Buildings are in ruins and grass grows on the broken runways. Suddenly there is a flash of lightning, thunder follows. Amidst a terrible storm a black shape is falling out of the dark clouds. "It's a World War Two Spitfire!" shouts one of the boys. "And it's going to crash!..."
Boek is 2 keer beschikbaar in de Mediatheek.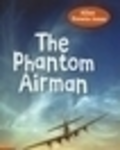 Auteur:
Allan Frewin Jones
Keywords:
jeugdliteratuur
Relevant: