The Cloister and the Hearth REA 1
Omschrijving:
Level D
Rewritten within the vocabulary of New Method Reader, by Michael West.

1922. Reade was an English novelist and dramatist, best known for The Cloister and the Hearth relates the adventures of the father of Erasmus, and is considered one of the best examples of historical novels. The book begins: Not a day passes over the earth, but men and women of no note do great deeds, speak great words, and suffer noble sorrows. Of these obscure heroes, philosophers, and martyrs, the greater part will never be known till that hour, when many that are great shall be small, and the small great; but of others the world's knowledge may be said to sleep: their lives and characters lie hidden from nations in the annals that record them.
Boek is beschikbaar in de Mediatheek.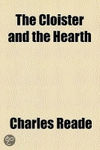 Auteur:
Charles Reade
Keywords:
jeugdliteratuur
Relevant: