The Lion in the Gateway RENA 1
Omschrijving:
Author's first book for younger readers after a number of enormously successful historical titles. "Five centuries before the birth of Christ, Athens defied King Darius of Persia and brought down upon all Greece the wrath of the mighty Persian Empire." Renault details how the Greeks prevailed against overwhelming odds, and changed the course of history.
Boek is beschikbaar in de Mediatheek.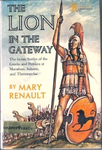 Auteur:
Mary Renault
Keywords:
Historische roman
,
jeugdliteratuur
Relevant: