The Last Tycoon SCOT 4
Omschrijving:
Level A

Caught up in his own cynicism and vulnerability, Monroe Stahr inhabits a world dominated by business, alcohol and promiscuity. This is Fitzgerald's last novel, left unfinished. It bids farewell to the American dream, with a hero who doesn't believe in morality and fails to see love.

Boek is beschikbaar in de Mediatheek.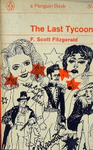 Auteur:
F. Scott Fitzgerald
Keywords:
Literaire fictie algemeen
Relevant: