Memoirs of an Ex-Prom Queen SHUL1
Omschrijving:
Alix Kates Shulman's Memoirs of an Ex-Prom Queen created a profound impact on the cultural landscape when it was originally published in 1972. A sardonic portrayal of one white, middle-class, Midwestern girl's coming-of-age, the novel takes a wry and prescient look at a range of experiences treated at the time as taboo but which were ultimately accepted as matters of major political significance: sexual harassment, job discrimination, the sexual double standard, rape, abortion restrictions, the double binds of marriage and motherhood, and the frantic quest for beauty. The book went on to sell more than a million copies and is regarded today as a classic, one of the first and best pieces of fiction born of the women's liberation movement. With many of its concerns still with us today, this witty and devastating novel continues to resonate with readers, and Sasha Davis has proved herself a prom queen for the ages.
Boek is beschikbaar in de Mediatheek.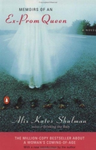 Auteur:
Alix Kates Shulman
Keywords:
Literaire fictie algemeen
Relevant: