The Family Moskat SIN 1
Omschrijving:
Tells the story of the prosperous Moskat family, Polish Jews living in Warsaw between the dawn of the 20th century and the gloom of 1939. Characters in this novel include saints and swindlers, tough Zionists and mystic philosophers, and medieval Rabbis and ultra-modern painters.
Boek is beschikbaar in de Mediatheek.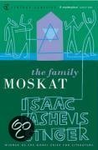 Auteur:
Isaac Bashevis Singer
Keywords:
Literaire fictie algemeen
Relevant: