The Bachelors SPA 7
Omschrijving:

Contentedly Charming To Variously Tormented
"Daylight was appearing over London, the great city of bachelors" is the fist sentence of Muriel Sparks's book, "The Bachelors". The areas of London that had the greatest concentration of bachelors were Queen's Gate, Kensington and King's Road. Places all near the center of the shopping district.
The very British bachelors in this novel, a barrister, a councilman, a detective, an unusual priest, a spiritual medium, a handwriting expert, a man with uncontrolled seizures, and a man who eats onions to ward off advances from women, all well developed characters in this novel.

All start out on a Saturday morn, organizing their food shopping with their meal planning, and who will cook and clean for them.
They are all drawn in eventually into the social register of the group, and into the spiritual atmosphere of the medium, Patrick Seton.

Patrick Seton, a man who is a well known fraud to some. A man with little or no conscience and a man who will draw all of these bachelors into a lawsuit. Is Patrick Seton so demonized that he would try to kill his diabetic, pregnant girlfriend? So thinks the physician who is being blackmailed by Mr. Seton. Ahh, but what of this woman who is so in love with Mr. Seton? Is she a silly girl who will do anything for the love of he man?

Are any of these bachelors really in love with their women, or do they need them for other nefarious reasons? What are their motives? How will this man Patrick Seton confuse their spirits and their lives?

Dame Muriel Sparks was born in 1918, and in a few months her 26th novel will be published. She is a well beloved novelist from England. She writes of the dark, terrifying, evilness of the human spirit; and the deadpan humor of the human experience. This is a novel to be relished and to be read again to really experience the malevolence of the human mind.
Boek is beschikbaar in de Mediatheek.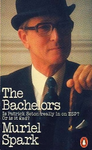 Auteur:
Muriel Spark
Keywords:
Literaire fictie algemeen
Relevant: