The Moon is Down STEI 1
Omschrijving:
Level B

Originally published at the zenith of Nazi Germany's power, Steinbeck's fable The Moon Is Down explores the effects of invasion on both the conquered and the conquerors. Occupied by enemy troops, a small, peaceable town comes face-to-face with evil imposed from the outside and betrayal from within the close-knit community. As he delves into the motivations and emotions of the enemy, Steinbeck uncovers profound and often unsettling truths both about war and human nature.

Vereenvoudigde versie
Boek is 2 keer beschikbaar in de Mediatheek.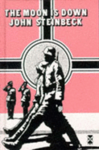 Auteur:
John Steinbeck
Keywords:
Literaire fictie algemeen
,
Oorlogs- en verzetsroman
Relevant: