I Found Your Diary THOM 1
Omschrijving:
When Tom Palmer finds a thrown away diary, he does'nt feel bad reading it. And he is fascinated. The diarist, Hannah, writes about the attraction she feels for the English teacher of her school. But she also mentions glimpsing a ghostly figure of her own self as a down-and-out. Tom worries about what happened to her and tries to find her, even if only to give the diary back.
Boek is beschikbaar in de Mediatheek.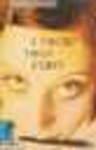 Auteur:
Frances Thomas
Keywords:
jeugdliteratuur
Relevant: