Washington D.C. VID 1
Omschrijving:
Level A

Beschrijving
'History is gossip,' says a protagonist in Washington, D.C., 'but the trick is determining which gossip is history.' It is a trick that Gore Vidal has mastered in his ongoing chronicle of that circus of opportunism and hypocrisy called American politics and which he plays with renewed vigour in this expose of the nation's capital.Young Clay Overbury, Senator Burden Day's assistant, has both a modest background and immense ambitions. Extremely handsome, oozing charm and seemingly dedicated to the Senator's cause, he is also duplicitous, conniving, and disloyal. But Enid Canford doesn't think so: she marries him, so providing the Sanford newspaper dynasty with a direct line to the Senator. Her father Blaise, at first loathing his son-in-law, later learns to love him - for all the wrong reasons. So begins this tale of lust and ambition set in the Republic's high noon. From the late 1930s to Jo McCarthy's reign of terror, Gore Vidal charts the seamy, sleazy side of Washington. Mixing sober history with nakedly Gothic melodrama, he provides an intoxicating cocktail of blackmail, betrayal, sexual ambivalence, lunacy and conspiracy - or, in a word, politics.
Boek is beschikbaar in de Mediatheek.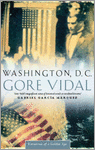 Auteur:
Gore Vidal
Keywords:
Literaire fictie algemeen
Relevant: