Slow Waltz in Cedar Bend WALL 1
Omschrijving:
Beschrijving
The author of the phenomenal New York Times bestseller The Bridges of Madison County once again brings characters and situations with his special blend of lyricism and magic. This is a bittersweet story about two good people who discover that true love, when it comes, is rarely fair, or right--or without pain.

Boek is beschikbaar in de Mediatheek.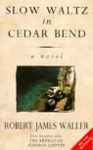 Auteur:
Robert James Waller
Keywords:
Literaire fictie algemeen
Relevant: