Divine Secrets of the Ya-Ya Sisterhood WELR 1
Omschrijving:
Level A

Review (Amazone.com)

Two words that sum up this marvelous work of literature by Rebecca Wells: simply divine. I read this book on an airplane simply to pass the time, and found myself engrossed in a charming, quirky, and delightful romp of four of the most richly drawn women I have met in literature in a long time.

Wells manages to capture the incorrigible spirit of each of the "Ya-Ya's" and their dynamics are wonderful. Their complex, supportive group is a real entity, as real as the characters that created it. The most rich character of the bunch is Vivi, whom you both love and fear. She is a tornado in the Louisana swamps, and her antithesis is her much-confused daughter Sidda. It's Sidda and Vivi's relationship that lies at the heart of this book. Through Vivi's life, Sidda learns and relearns some important lessons in life that allow her to continue forward. By looking back, it helps sets her future.
Boek is beschikbaar in de Mediatheek.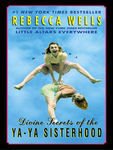 Auteur:
Rebecca Wells
Keywords:
Literaire fictie algemeen
Relevant: