The Wesker Trilogy WES 3
Omschrijving:
Chicken Soup with Barley
The play spans twenty years - 1936 to 1956 - in the life of the communist Kahn family: SARAH and HARRY, and their children, ADA and RONNIE.
Beginning with the anti-fascist demonstrations in 1936 in London's East End and ending with the Hungarian uprising in 1956, the play explores the disintegration of political ideology parallel with the disintegration of a family.
It is the son, RONNIE, who is the most deeply affected and turns on his mother who insists on remaining a communist. Her reply ends the play on a note of desperate optimism.

Roots
Explores the theme of 'self-discovery'. BEATIE BRYANT, daughter of Norfolk farm labourers, has fallen in love with RONNIE KAHN from the 'Chicken Soup' family. She returns from London to visit her family all of whom await the arrival of RONNIE. During the two-week waiting period BEATIE is full of RONNIE'S thoughts and words. To greet him the family gathers for a huge Saturday afternoon tea. He doesn't turn up. Instead comes a letter saying he doesn't think the relationship will work. The family turns on BEATIE. In the process of defending herself she finds, to her delight, that she's using her own voice.

I'm Talking About Jerusalem
ADA KAHN, the daughter of the 'Chicken Soup' family, marries DAVE SIMMONDS. They move to an isolated house in Norfolk where they struggle through a back-to-the-land experiment. DAVE makes furniture by hand.
Friends and family visit them throughout their 12 rural years charting and commenting on the fortunes of their experiment. It doesn't work, but they end gratified to have had the courage to try.
Boek is beschikbaar in de Mediatheek.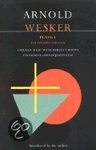 Auteur:
Arnold Wesker
Keywords:
Toneeltekst
Relevant: