Edward Hopper SISO 737.8
Omschrijving:

"In a career of sixty years, marked by unwavering integrity and steady growth, Edward Hopper created a series of unforgettable images of modern America. His art was based on the ordinary aspects of the contemporary United States, in city, town, and country, seen with uncompromising truthfullness. No artist has painted a more revealing portrait of twentieth-century America... The oversize format of this book, and its lavish illustrations - almost three hundred large plates - allow ample scope for a comprehensive view of Hopper's work."
Boek is beschikbaar in de Mediatheek.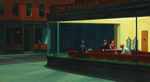 Auteur:
Lloyd Goodrich
Keywords:
informatief kunst
Relevant: