The rise and fall of Rome DVD
Omschrijving:
Samenvatting
Deze bekroonde serie vertelt het verhaal van de opkomst en ondergang van het oude Rome aan de hand van zes keerpunten in de geschiedenis. De serie gaat voornamelijk uit van bewezen feiten en is gebaseerd op uitgebreid historisch onderzoek. We zien hoe de hebzucht, wellust en ambitie van mannen als Caesar, Nero en Constantijn vorm geven aan het Romeinse Rijk. De serie beschrijft onder meer hoe Rome Carthago verwoestte, werd veroverd door Caesar, de Joodse opstand onderdrukte en zich uiteindelijk bekeerde tot het christendom.

Regie
Nick Murphy
Genre drama, geschiedenis
Tijdsduur 350 minuten
Jaar 2006
Acteurs Michael Sheen, Catherine McCormack, John Shrapnel, Sean Pertwee, David Warner, James D'Arcy, Tom Bell, Peter Firth, Ed Stoppard, David Threlfall, John Blakey, John Woodvine, Charles Dale, Mark Lockyer, Sebastian Armesto

DVD is beschikbaar in de Mediatheek.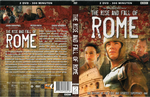 Auteur:
BBC
Keywords:
informatief geschiedenis
,
Drama
Relevant: