Degas SISO 737.7
Omschrijving:
Edgar Degas occupies a unique position in the gallery of nineteenth-century French painters.
In this volume, Swiss art historian Eduard Huttinger provides ah exhaustive study of Degas's work, analyzing its historical significance and its surprising modernity.

49 illustrations in color.
Boek is beschikbaar in de Mediatheek.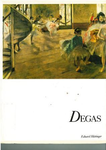 Auteur:
Eduard Huttinger
Keywords:
informatief kunst
Relevant: