Tapies SISO 737.8
Omschrijving:

Mooie uitgave met een analyse van het werk van deze Spaanse abstracte schilder.

Antoni Tapies was born in 1923 to a Barcelona family of publishers and booksellers. He began drawing and painting as a young man, during a convalescence, and in the end gave up studying law to concentrate on art. By the 1940s, in his 20s, Tapies was already exhibiting widely. As an early Matter painter, he added dirt and other solids to his canvases, transmuting them into art and reminding viewers of the earth to which they would return. Later, in the era of Arte Povera, he worked in foam rubber and spray, varnishes and, for creating objects or sculptures, refractory clay and bronze. Coming from a bookish family, he also produced a number of artist's books and editions, working with collaborators such as Joseph Brodsky and Jose Saramago.
Boek is beschikbaar in de Mediatheek.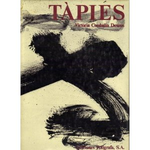 Auteur:
Victoria Combalia Dexeus
Keywords:
informatief kunst
Relevant: