Edvard Munch SISO 737.7
Omschrijving:
Paintings, sketches and studies

Edvard Munch (1863-1944) is an artist whose fascination is based on the compelling expression of intense and seemingly indefinable emotions. The power and beauty of his finest work is based on a tormented sensibility. In this new and magnificently illustrated book , Arne Eggum presents the results of fifteen years of research on Munch's life.
Boek is beschikbaar in de Mediatheek.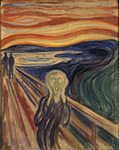 Auteur:
Arne Eggum
Keywords:
informatief kunst
Relevant: