Profiles of the future CLA 1
Omschrijving:
- an inquiry into the limits of the possible

This book originally appeared in 1962, and was based on essays written during the period 1959 - 1961. Since it was concerned with ultimate possibilities, and not with achievements to be expected in the near future, even the remarkable events of the last decade have dated it very little. But Arthur Clarke has gone over the book making corrections and comments where necessary in order to bring it right up-to-date. The author, amongst many fascinating excursions into what the future may hold, discusses the fourth dimension and the obsolescence of the law of gravity, the exploration of the entire solar system and the colonisation of some of it; seas will mined for energy and minerals, and asteroids will be pulled to Earth to supply needed materials; men, already bigger than they need be, may be bred smaller to be more efficient on less food.
Boek is beschikbaar in de Mediatheek.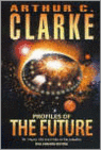 Auteur:
Arthur C. Clarke
Keywords:
Literaire non-fictie algemeen
,
informatief wetenschap
Relevant: