The Heart of the Matter GRE 6
Omschrijving:
Originally published in 1948 and widely acclaimed a modern classic, The Heart of the Matter tells the story of a good man enmeshed in love, intrigue, and evil in a West African coastal town. His name is Scobie, and he is a man bound by strict integrity to his role as assistant police commissioner and by severe responsibility to his wife, Louise, for whom he cares with a fatal pity. When he falls in love with Helen, a childlike widow of nineteen, and finds vital passion yielding again to pity, and integrity giving way to deceit and dishonor, the crisis makes for a novel that is suspenseful, always fascinating, and finally tragic. At its center is the unforgettable portrait of one man, flawed and yet heroic, destroyed and redeemed by a terrible conflict of passion and faith.
Boek is beschikbaar in de Mediatheek.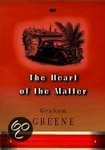 Auteur:
Graham Greene
Keywords:
Psychologisch
,
Literaire fictie algemeen
Relevant: