Hotel (simplified) HAI 1:1
Omschrijving:
Abridged and simplified version

A behind-the-scenes view of a major New Orleans hotel, the St Gregory, which introduces a host of characters - the tycoons who run the industry and the staff and guests in the hotel. The book became the basis of a major TV series.
Boek is beschikbaar in de Mediatheek.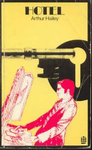 Auteur:
Arthur Hailey
Keywords:
Literaire fictie algemeen
Relevant: