Shadows on Our Skin JOHJ 1
Omschrijving:
Derry in the 1970s: teenager Joe Logan is growing up in the teeth of the Troubles, having to cope with embittered parents, a brother who's been away and come back with money and a gun in his pocket, harsh school teachers, and the constant awareness of the military presence in the background. Central to the story is the friendship that tentatively grows up between Joe and Kathleen, a young school-teacher who brings a fresh perspective to his familiar world.
Boek is beschikbaar in de Mediatheek.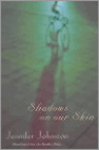 Auteur:
Jennifer Johnston
Keywords:
Literaire fictie algemeen
Relevant: