Friday the Rabbi Slept Late KEM 1
Omschrijving:
David Small is the new rabbi in the small Massachusetts town of Barnard's Crossing. Although he'd rather spend his days engaged in Torah study and theological debate, the daily chores of synagogue life are all-consuming—that is, until the day a nanny's body is found on the rain-soaked asphalt of the temple's parking lot. When the young woman's purse is discovered in Rabbi Small's car, he will have to use his scholarly skills and Talmudic wisdom to exonerate himself and find the real killer.
Boek is beschikbaar in de Mediatheek.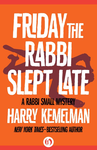 Auteur:
Harry Kemelman
Keywords:
Detective
Relevant: