The Call of the Wild LON 2
Omschrijving:
The Call of the Wild is a classic of young adult literature, and this edition provides a wealth of information on the work's literary and cultural backgrounds. A best-seller from the moment of its publication, Jack London's The Call of the Wild (1903) is about Buck, a big mongrel who is shipped from his comfortable life in California to Alaska, where he must adapt to the harsh life of a sled dog during the Klondike Gold Rush. Over the past hundred years London's 'dog story' has proved to have the enduring and universal appeal of the great classic. It has been translated into more than eighty languages and is one of the best-loved works of fiction in all of world literature. This is the only edition with appendices. It includes material on the North, Darwinism, and the history of psychology.
Boek is 5 keer beschikbaar in de Mediatheek.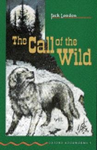 Auteur:
Jack London
Keywords:
jeugdliteratuur
,
Avonturenroman
Relevant: