The Garden Party and Other Stories MAN 1
Omschrijving:
1922. Mansfield is New Zealand's most famous writer. She was closely associated with D.H. Lawrence and something of a rival of Virginia Woolf. Mansfield's creative years were burdened with loneliness, illness, jealousy, alienation, all this reflected in her work with the bitter depiction of marital and family relationships of her middle-class characters. Her short stories are also notable for their use of stream of consciousness. Like the Russian writer Anton Chekhov, Mansfield depicted trivial events and subtle changes in human behavior. Her family memoirs, collected in Bliss, secured her reputation as a writer. Contents: At the Bay; The Garden Party; The Daughters of the Late Colonel; Mr. and Mrs. Dove; The Young Girl; Life of Ma Parker; Marriage a la Mode; The Voyage; Miss Brill; Her First Ball; The Singing Lesson; The Stranger; Bank Holiday; An Ideal Family; and The Lady's-Maid.
Boek is beschikbaar in de Mediatheek.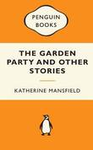 Auteur:
Katherine Mansfield
Keywords:
Verhalenbundels
,
Psychologisch
Relevant: