The Blue Lenses and Other Stories MAUR 7
Omschrijving:
"The blue lenses and other stories" is een verhalenbundel van Daphne du Maurier. Marda West ondergaat een oogoperatie in 'De Blauwe Lenzen', en ligt vervolgens dagen in het donker. Als vervolgens het verband eraf mag, is wat ze ziet niet wat ze verwacht had. In 'Ganymedes' krijgt een oudere homoseksueel een relatie met een Italiaanse jongen, die naderhand dood gevonden wordt. In 'De Poel' wordt de fantasiewereld van meisje op de rand van de pubertijd beschreven. In 'De Gems' wordt een man geconfronteerd met zijn grootste angsten.
Boek is beschikbaar in de Mediatheek.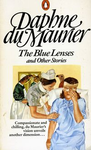 Auteur:
Daphne du Maurier
Keywords:
Verhalenbundels
,
Griezel- en spookverhalen
Relevant: