The Enchanted Castle NES 2
Omschrijving:
Gerald, James and Kathleen, discover an enchanted castle while exploring during the school holidays. The lake, groves and marble statues, make a fairy-tale setting. In the middle of the maze in the garden they find a sleeping fairy-tale princess. The "princess" tells them that the castle is full of magic, and they believe her. She shows them the treasures of the castle, including a ring she says is a ring of invisibility,The children soon discover that the ring has other magical powers.
Boek is beschikbaar in de Mediatheek.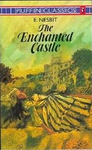 Auteur:
E. Nesbit
Keywords:
jeugdliteratuur
,
Fantasy
Relevant: