The Entertainer OSB1
Omschrijving:
In book form, the script for a play in which Sir Lawrence Olivier will star, in mid-February. The author is heralded as London's most promising young playwright, with his current Broadway success, Look Back in Anger. The new play promises to be brilliant theatre, both compassionate and amusing, in a story of our times. (Kirkus Reviews)
Boek is 2 keer beschikbaar in de Mediatheek.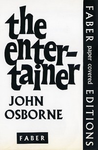 Auteur:
John Osborne
Keywords:
Toneeltekst
Relevant: